"Everything you do will either help you or hurt you."
Do you resonate with the above statement?
What about this one: "Everything is marketing."
In today's world, it is impossible not to market. If you post on Facebook, deliver products or services, or use email, you are marketing. Period.
And if you're marketing, you're creating a reputation. That reputation must be managed!
Your Reputation Online and Why it Matters
The data is in, and there are a couple of statistics that may shock you when it comes to the buyer's decision to purchase.
Before the rise of the Internet, the most likely way to close a sale was by getting the prospect on the phone or in the store as quickly as possible.
And while this may still work inside of some industries, most likely, it's not a reliable indicator for yours. Even if most of your business is Word of Mouth today, it's quite possible you are missing opportunities you're not even aware of because of an absent or negative online reputation.
If you want new business, you need a solid online reputation.
Google Reviews: The "Always-On-the-Job" Salesperson You Must Feed, But Don't Have to Hire
Let me state right up front that your particular business or industry may not be a great fit for Google reviews.
While we're going to use that framework as a discussion point, note that much of what I am telling you applies just as much to Facebook reviews and niche review sites, even if the details shake out a bit differently.
The Emphasis on Reviews
In the digital marketing space, there's an ever-present war between the value of reviews vs testimonials vs case studies.
Just in case you don't know the difference:
Reviews are usually quick snippets that highlight the best or worst parts of a customer's experience, usually left on a public website.
Testimonials may be longer and more descriptive, but are similar in format. Usually, though, these will be found on a brand's personal website.
Case studies are an in-depth look at a customer's problem, how your business worked with them to solve it, and the results obtained afterward.
To be clear, each of these has their place.
However, there's a huge caveat.
Both testimonials and case studies almost always require someone to find your product, service, or website first and then engage with them. This isn't the end of the world; after all, it shows buying intent.
But it does relatively little (beyond typical SEO) to bolster your discoverability online.
Also, there is a potential measure of distrust with those. I don't know about you, but even as a person who values testimonials and case studies, I'm always a bit more on guard about them than reviews.
Reviews are generally seen as an unsolicited marker of a customer's experience. Most people will not leave reviews, especially not of their own volition.
So when they do, it matters. We pay attention. And that is more convincing to potential clients, customers, students, etc.
Google Reviews and Discoverability
If your business is prime for Google Reviews (typically, if your business operates in a particular geographic area), there is an extra special advantage.
Provided your scores are high enough, Google will actually surface your business for local queries in their map results, meaning that even if your website is not ranking for that particular term, your Google Business Profile could!
It's a great way to shortcut the process.
Many clients we work with are not local, however, and do not even have the kind of business you'd normally consider checking Google Reviews for.
Still, there's a surprising benefit you may not have considered, even if you don't have a local business: Rich Brand Searches.
For example, see the image below.

This is a client of mine, Front Office Guru. Notice that her primary "geographic area" is the entire United States!
Sure, this is a brand search and her website comes up first thing. But notice the first impression that is made! You can see rich data about the business, her reputation is immediately visible via the Google Reviews, etc.
In short, there is a tremendous advantage for both brand and local searches when it comes to getting more 5-star Google reviews.
It matters. And here's why:
Four Types of Customer
When it comes right down to it, there's only four types of customers you can get online:
Ready — This person is ready to convert, and will press "buy" when you call to action in an email, Facebook ad, etc.
Repeat — This person has done business with you in the past and it's only a matter of time before they do again.
Referral — This person was referred via Word of Mouth marketing and will convert if high enough trust is established.
Researcher — This person is looking for a solution to their problem and could encounter yours on their search.
We should only do marketing activities that speak to one or more of these audiences. So, where do reviews fit?
Capitalizing on Word of Mouth
Reviews are especially equipped to help capture the referral customer. This has tremendous importance you may have never considered.
Despite how many courses are available for online marketing, an overwhelming number of business owners state that the very best kind of marketing is Word of Mouth.
Why is that? A few obvious reasons:
An immediate foundation for trust is established.
It's free.
It happens automatically.
It's free.
By the way, it's FREE.
Because it's free, it is very often considered a low priority and sometimes relegated to the pile of "inconsistent" marketing.
This is a shame. It's the BEST marketing channel, but there's no way to count on it? Madness.
Our business set out to find an answer. How can we take an inconsistent marketing strategy and turn into something useful? How do we get more 5-star reviews, and how do we convert more customers based on those reviews?
The Review Funnel
The answer to this conundrum is called the Review Funnel. This is something you could build manually, but we've partnered with a company called ReviewLead because they've already done the hard work and built an amazing system we use with clients.
The review funnel has three basic elements:
Your Landing Page
A Positive Review Mechanism
A Negative Review Mechanism
After a customer has done business with you, they are systematically placed into this review funnel. They will be taken to a landing page, which asks whether they've had a positive or negative experience.
Here's a look at ours: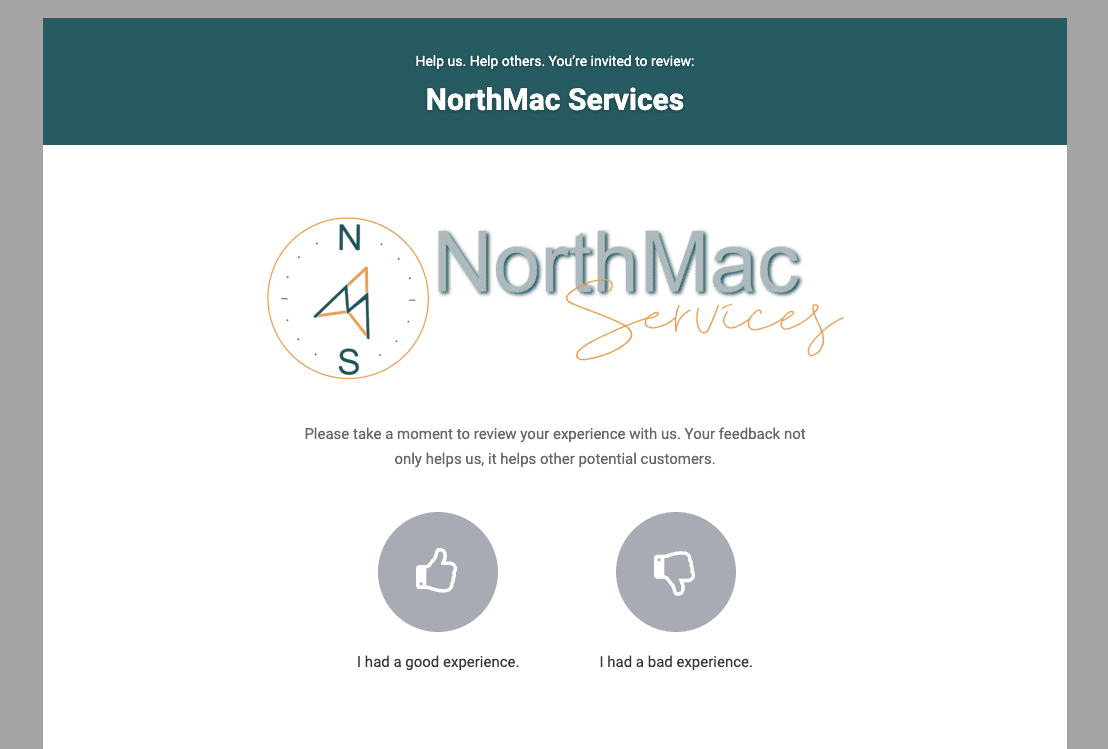 Clients will choose whether they had a good or bad experience, and based on that, will be redirected to either fill out a review on the platform we would like, or fill out a feedback form so that we can follow up with them directly.
Is This Ethical and/or Legal?
As per Google's terms and conditions, it is not acceptable to influence a person to leave a positive or negative review. This process is entirely compliant with Google's terms.
At any point in time, the client can change his or her mind and leave a private/public comment instead.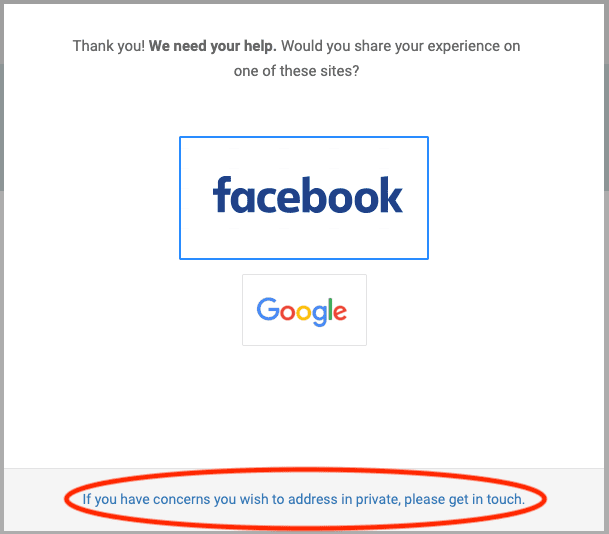 This process will have two outcomes, though:
Positive reviewers will be able to immediately leave positive feedback.
Negative reviewers will first be given a chance to address their concerns in private, in hopes the company will take corrective action immediately.
So long as you have a process in place for taking corrective action and addressing customer's concerns, the result should be a dramatic decrease in negative public reviews.
Hopefully you don't have many of those anyway! But when it comes to effective reputation management online, this process is the gold standard.
We'd Love to Help
This service has been very successful for us and has really helped clients move forward in terms of their Google reviews.
If you'd prefer reviews to be left via Facebook or another popular site in your industry, that can be facilitated as well!
We'd love the chance to audit your current review situation and see if there's a way we can help. Just request a quote and we'll be in touch ASAP.