It's been said that, no matter what business you're in, you're not actually in that business. Or at least you shouldn't be.
Instead, you're in the business of marketing that business.
It's a subtle—but very important—distinction that informs your operations. One of the best ways to manage your marketing efforts is with a CRM, or "Customer Relationship Manager."
(Personally, I've always thought that should be the title of a person, not software. I digress.)
How CRM's Help
Fledgling business owners often keep the details in the confines of their mind. This is unwise, especially if you ever plan to scale your operation in the future.
A CRM keeps those details in an important place, accessible where and when needed. It will track those currently doing business with you, as well as leads and prospects.
A good CRM will be able to send emails, reminders, add custom fields, integrate with other systems, track contact activities, provide detailed reporting, and more.
But you might be wondering why you're reading about a CRM here. Don't we talk about websites?
The CRM and Your Website
Well, yes. We do talk about websites. But a website (we prefer to call it a "marketing hub") is the central part of a larger digital marketing plan.
And since a CRM is an indispensable marketing tool, it's a shame that these two systems do not often intersect.
Well—they do, but it's usually not pretty. There are a lot of moving pieces, and anytime you have to "reach across the Internet" to make software talk, there can be problems.
That's why we prefer to use a system that changes the game, called FluentCRM.
FluentCRM: The CRM that lives IN your website.
FluentCRM, while a relatively new product (it's a few years old now), is made by a veteran WordPress development team called WP Manage Ninja.
The product itself is becoming a force to be reckoned with, and for good reason. While most CRM's live outside of WordPress and therefore connect with it in very limited ways, FluentCRM lives inside of your WordPress installation. (For you tech nerds, the data is stored in a separate database. So no worries there.)
This does have a couple of downsides. For example, if your website goes down, so does your capacity to send emails. But with our websites securing 99%+ uptime, this has not caused an issue for us.
Another potential downside of this plugin is that it's a bit limited in email design. However, the data is in, and the most effective emails (for a number of reasons) are usually just plaintext.
In fact, ConvertKit, one of the world's most popular email marketing platforms, only allowed you to send basic text emails for the first couple of years in business.
In our opinion, though, the upsides are tremendous. Once your CRM lives inside of your website, many of the integrations you once needed will become obsolete.
For example, let's say someone purchases something from your online store. If you're using WordPress, chances are you're using Woocommerce to facilitate that transaction.
All of the integrations are built in to send a specific email or sequence of emails via FluentCRM, based on which product they bought. And that's just the beginning.
Because this CRM has deep integration out of the box with so many current plugins (with more integrations being added every day), everything can be neatly kept in one place. Your website truly becomes a marketing hub.
Connecting FluentCRM to Your Website
Once you've purchased a license for FluentCRM (affiliate link), you simply download the plugin and install it.
Enter your license key to ensure you have Pro access (although the free version works great as well!), and that's it!
Setup is a breeze, and I recommend checking out this video to start off on the right foot. This "getting started" video by Mak will also prove useful.
Easy peasy, right?
Connecting other Popular CRM's to Your Website
We're obviously fans of FluentCRM because of its deep integration. But what if you don't have it, don't want it, or can't use it due to your requirements?
For example, we have clients who need to use ActiveCampaign or Keap because they have particular features built in specific to membership plugins like Memberium.
No worries! Even though you won't have some of the deep integration with other WordPress plugins I personally prefer, there are still some great options for getting these connected.
Of course, I cannot give you the specifics for each and every CRM option. But there are two "guiding principles" that should be able to apply no matter which CRM you have. Once you get this, the technical details should make a lot more sense.
They are:
The initial connection.
The IFTTT principle.
The Initial Connection
As for the initial connection there must be some means of telling your WordPress website that your CRM or email marketing platform exists in the first place.
Most of the time, this is going to come in the form of a plugin.
With ActiveCampaign, for example, all you do is search in the WordPress plugins repository and you will see the option.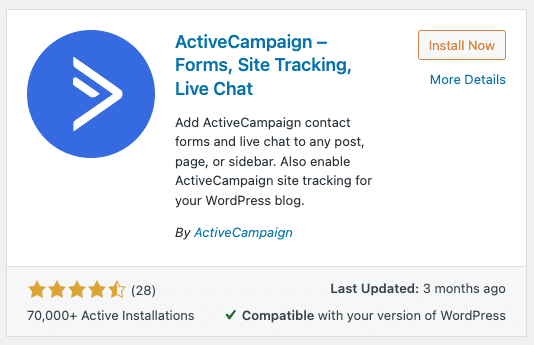 This plugin would establish that initial connection and, depending on the functionality you require, may be all that you need.
As stated in the title of the plugin itself, this will give you the ability to create forms, track info, and even add live chat. If that's all you need, then you're good to go. You just sign into your account and/or add the API keys (depending on the platform's requirements) and you're good to go.
The IFTTT Principle
IFTTT is a term that means "If this, then that." It's a "plain language" way to describe what happens when you automate software.
Let's use another popular CRM/email platform in this example, called Mailchimp. Let's say you have a membership website, and you want someone to receive a particular email automation when they join as a member.
Using the IFTTT principle, you would use software to make the connection that: "If someone becomes a member in the Gold Membership, send the Gold Membership Email Welcome Sequence."
Cool, right?
Now the question is—which software accomplishes that?
There are two general ways to go about it.
For any specific platform, there may be additional plugins you can buy or download for free that make connection like this possible.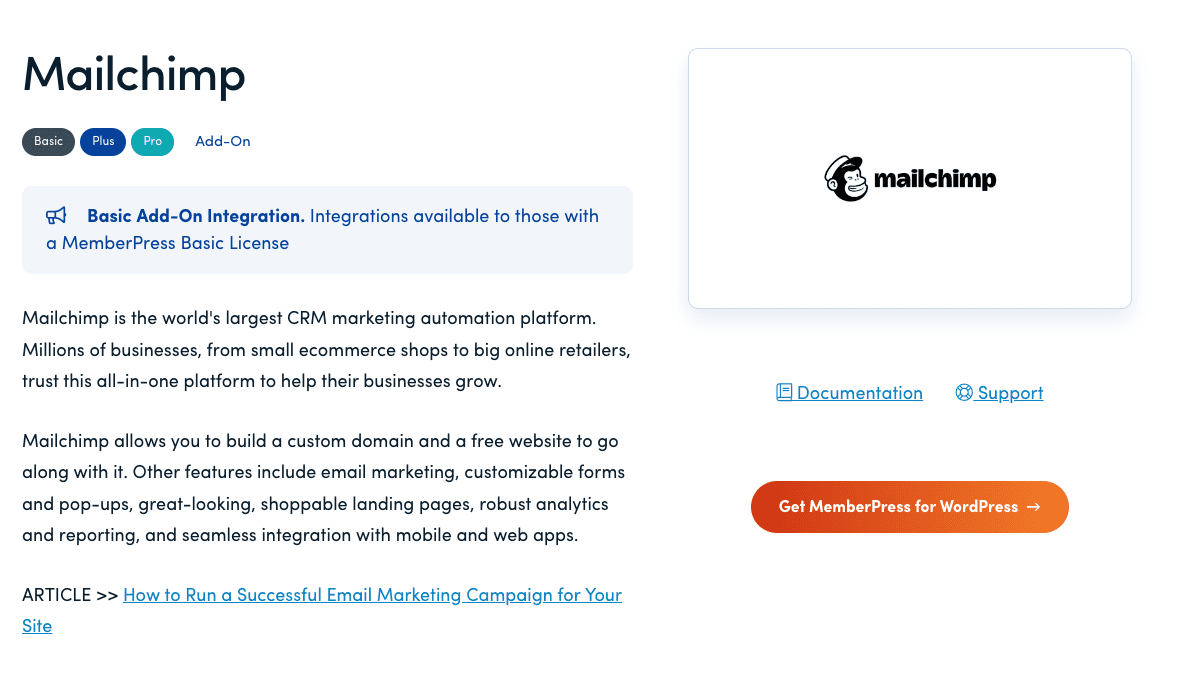 This plugin is an add-on for MemberPress that creates a connection between it and Mailchimp. It would allow you to accomplish the example above. However, this add-on is good for one thing, and one thing only: Making MemberPress talk to Mailchimp.
There is another option, though.
You could use an automation plugin that is specifically designed to implement the IFTTT principle across a variety of apps, both inside and outside of WordPress.
A few examples are WPFusion, AutomatorWP, and SureTriggers (in private beta). The job of these plugins is to create the deepest integration possible, across the largest swath of software possible, so that advanced connections can be made in an instant.
So to summarize, you need to make an initial connection with your CRM, and then you need to think about the IFTTT principle (and potentially purchase an additional plugin) to integrate it deeply with your website.
FluentCRM and IFTTT
You might be wondering, does FluentCRM need IFTTT to work?
The answer is, no. And yes.
As mentioned above, FluentCRM is becoming a force within the WordPress community. The wider it's known and the better its reputation, the more integrated it is becoming.
That said, it already has fantastic integration with the automator plugins mentioned above. So if you wanted to set yourself up the for the future, you'd consider an automation plugin in tandem with FluentCRM, even though it will directly integrate with many things out of the box.
Conclusion
This post is not intended to be an ad for FluentCRM. However, we'd be remiss not to mention that a CRM is a vital part of your marketing hub, and we believe FluentCRM is simply the best option today.
Remember, using the "initial connection" and "IFTCC" principles, you can confidently connect most CRM tools with your WordPress website, even if they will not be as deeply integrated as other options.